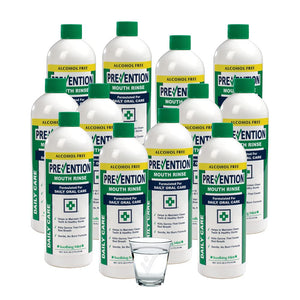 Prevention's Daily Care Mouth Rinse is the answer to all your dental woes, no matter what they are! Our team of dental scientists developed this proprietary daily oral care treatment to not only manage soreness and sensitivity, but also to maintain overall dental hygiene and health, so dental issues are kept at a minimum. Our formula is created without alcohol, fluoride, harsh chemicals, dyes and artificial flavors, so you can rest assured that your mouth rinse is not doing the opposite of what it's intended to do and causing you additional problems. What's more, its soothing mint flavor will leave your mouth feeling refreshed and clean for up to 12 hours! Key Components of Daily Care: Hydrogen Peroxide: Targets only harmful anaerobic bacteria Pure Glycerin: Rehydrates mouth & moisturizes oral cavities Sodium Citrate & Zinc Chloride: Curbs bad breath Daily Care Features: Helps maintain clean teeth and healthy gums Combats bad breath Soothes tissue inflammation Promotes healing of ulcerations Protects mucosal lining Reduces oral sensitivity Hydrates dry mouth Long-lasting; 12-hour effectiveness Refreshing mint flavor from natural menthol & peppermint oil Safe for kids ages 2 & up Directions: Do not dilute. After brushing, vigorously swish 1 capful of rinse or more between teeth and gums for 1 minute. Use 3 to 5 times daily. Ingredients: deionized water, hydrogen peroxide, USP natural glycerin, poloxamer 407, sodium lauryl sulfate, disodium EDTA, peppermint oil, sodium citrate, sodium saccharin, citric acid, zinc chloride, menthol Try Prevention Daily Care today! Your teeth and gums will thank you.
Value-Added Oral Care - Our best care bundle for oral health - buy 3 of our Daily Care Mouthwash and get 1 free. Our over-the-counter mouth rinse is bacteria-selective, meaning it allows good bacteria to flourish while keeping bad germs at bay. This can help ease discomfort associated with common oral complications like mucositis and ulcers.
Daily Oral Maintenance - This antibacterial mouthwash makes it easy to maintain oral hygiene. By simply gargling it 3 to 5 times per day, you can prevent common dental issues like plaque buildup, gingivitis, bad breath, and teeth and gum sensitivity.
Safe Ingredients: Made primarily of hydrogen peroxide, glycerin, menthol and zinc, this formula is free of artificial flavors, alcohol, fluoride, dyes and harsh chemicals, which is why it's the oral care solution recommended by health providers everywhere.
Alcohol Free, Gentle, No-Burn Formula - Early and consistent use of our mouthwash can help protect against future dental issues. Since it is easy to swish and exceedingly gentle on the teeth and gums, it is safe for use by both children ages 2 and up and adults.
Why Prevention - At Prevention Health Sciences, we believe great oral health begins with prevention. Our line of oral care products is recommended by healthcare professionals for prevention of dental problems, as well as everyday care and protection.